Forestry, biomass and energy crops
The Dawnay Estates forestry policy aims to manage the woodlands to produce useful timber, and maintain the woodland as a primary landscape feature. As such the woodlands are managed in a sustainable way in full consultation with the Forestry Commission.
Commercial forestry
On the 'high ground' at Wykeham we manage approximately 337 acres of commercial coniferous woodland. There is also 1,705 acres rented on a 999 lease to the Forestry Commission.
The geography and topology are ideal for Sitka spruce (Picea sitchensis) and Douglas fir (Pseudotsuga menziesii). The good dimensions and straightness of our trees meant they were selected as climbing poles at the Great Yorkshire Show ground in Harrogate. The trees were around 70 years old and measured 95ft in length.
Hardwood and softwood timber is sometimes available for sale by tender. Please contact us if you are interested in being added to a potential tenderers list.
Amenity woodland
553 acres of broadleaf amenity woodland lie in and around Wykeham and Danby. It is a mix of managed oak and other broadleaf trees, conifers and relatively unmanaged native birch woodland. These species are help support native wildlife and woodland plants.
Planting programme
The Estates extensive planting programme ensures the future of our forests for decades to come. Species varieties being planted include Oak, Douglas Fir, Sitka Spruce and Hornbeam.
Biomass and energy crops
In the 20th century, low value timber would have gone to waste. Now first thinnings, snapped and twisted logs are kept aside to be turned into energy. They are dried for at least 18 months, and then chipped by a contractor.
These woodchips are fed into the two biomass boilers which heat Wykeham Abbey, and the eight flats, maintenance workshops and garages surrounding it. Installed in 2016, they require 250 tonnes of woodchip to function, saving 60,000 litres of oil per year. The boilers use Estate timber and so are self-sustaining.
Minimising our carbon footprint
Wherever possible, the Estates use timber for its own building and repair projects. Homegrown supplies minimise the haulage carbon footprint. For example, in 2021 a 60 year-old Douglas Fir was felled to clad the North Yorkshire Water Park's new café and building complex.
Douglas Fir is the perfect wood for the job as softwoods are more resistant to bacteria and moisture than hardwoods. It also does not need to be treated as the high resin content means it can last more than 30 years.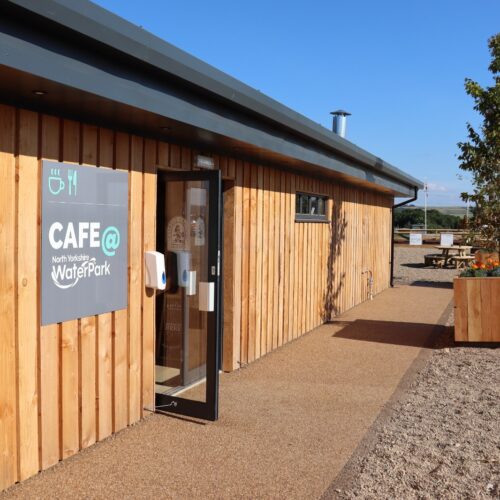 Reducing our environmental impact
To minimise the environmental impact of transporting heavy materials, felled trees and machinery, our teams use a mobile saw mill. Towed behind a Land Rover, this slimline machine converts timber on-site into beams, planks and posts. It can handle tree trunks up to 20 feet in length and 3 feet in diameter, milling up to 200 cubic feet of timber a day.
Beyond forestry, we run other initiatives to support the environment.